Nicole shares the love story of her dreamy Italian elopement.
HOW DID YOU MEET YOUR PARTNER?
Tom and I met in Cairns at a New Years party at Gilligan's (the most iconic backpacker's club in town) in 2013/2014. I was an au pair at the time and he was visiting Cairns for the holidays with friends.
WHERE IN ITALY DID YOU GET MARRIED?
Tom and I got married in Italy on the 6th of September this year. We chose a prosecco winery called Duca Di Dolle and booked the top suite that was placed in the middle of the vineyard with a massive terrace overlooking the surrounding mountains.

Waking up to this every morning was just magical. The spot where we had our ceremony was an open area with the hills in the background.
WHAT WAS YOUR FAVOURITE PART OF YOUR DAY?
It's hard to pick just one moment as the whole day was just perfect.

As we had decided to elope, it was such a relaxed day. We didn't start getting ready until around 2 or 3pm in the afternoon until Kerri, our photographer, had arrived. Because Kerri is family, everything felt super natural and there was no point in which we felt uncomfortable. We just drank prosecco all day whilst getting ready and taking photos.

The intimacy of the event was probably my favourite part. It was only about us and that is all we had to focus on. The day was not filled with stress, there was nothing we had to plan, organise or supervise.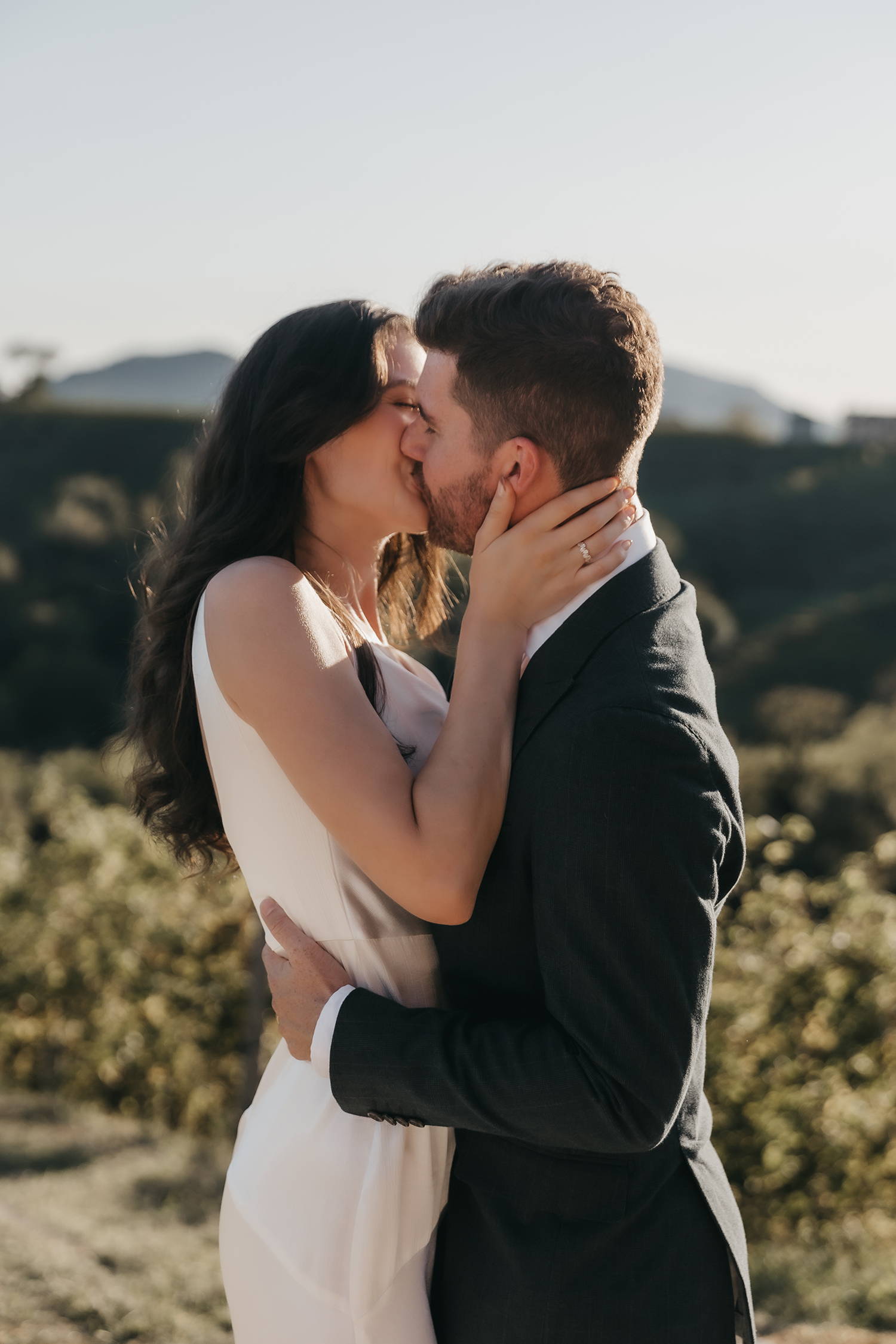 WHICH BEC + BRIDGE DRESS DID YOU WEAR + HOW DID YOU KNOW IT WAS THE ONE FOR YOU?
I wore the Moon Dance Cowl Dress in Ivory. What was an important criterion for the dress was that it needed to suit the environment we were getting married in. An elopement in the Italian mountains. Which meant no big wedding gown. Something simple but elegant.  

I tried on every dress available on that day and this one was the last dress. It just fit perfectly! The whole group was like "yes! this is it". It needed to fit the scene and it just did exactly that.
WHAT ADVICE WOULD YOU GIVE TO ANY SOON-TO-BE BRIDE?
My advice would be to keep in mind that this day is only for you and the groom. It is about you both and that's what you should focus on. Create a day that you will love, not your guests.

Weddings these days feel like they are filled with an expectation to create this picture of the perfect day that most couples spend stressing about everything rather than being in the moment and enjoying it.

An elopement might not be for everyone but this was our way to just celebrate us, be fully present and enjoy the moment for what it was.
WHO WAS YOUR PHOTOGRAPHER FOR THE DAY?
Kerri Ann McAuley was our photographer @kam_eraa